This product is the combination of the world's finest spring-piston action, with the best production stock ever made. It's the Air Arms philosophy to do all they can to help our customers get the most from their shooting, and the new ULTIMATE SPRINGER is designed to do just that.
This air rifle model, which uses an attractive Laminate stock, features a long section of laser-cut dotted textures on the forearm and grip, resulting in a non-slip hold. It also has a 3-axis rubber pad that provides greater control and comfort, a fully adjustable cheek piece that adjusts vertically and horizontally and a ball joint for complete rotation and tilt adjustment, an inheritance from the S510 rifle.
The fully adjustable stock of the PCP S510 Ultimate Sporter has transformed your shooting and Air Arms knew they could do exactly the same for TX200 rifle users. That's why they used the proven formula of an infinitely adjustable cheek piece to ensure perfect contact with the shoulder and ideal sight alignment, as well as the essential adjustment of the weapon. With this feature, the TX 200 Ultimate Springer brings together the butt adjustment capability of the award-winning S510 Ultimate Sporter with the world-beating actions of the classic TX 200 and Hunter Carbine spring rifle ranges.
The Air Arms TX200 MKIII Ultimate Springer has a quality Lothar Walther barrel that delivers superb accuracy. The air rifle also has a built-in silencer that results in quieter than expected shots. It also has an adjustable two-stage trigger with a high-gloss trivalent chrome coating and a tactile finish for a better feel and grip.
The optical rail allows shooters to add a scope, which in combination with the adjustable cheek piece results in optimum eye alignment.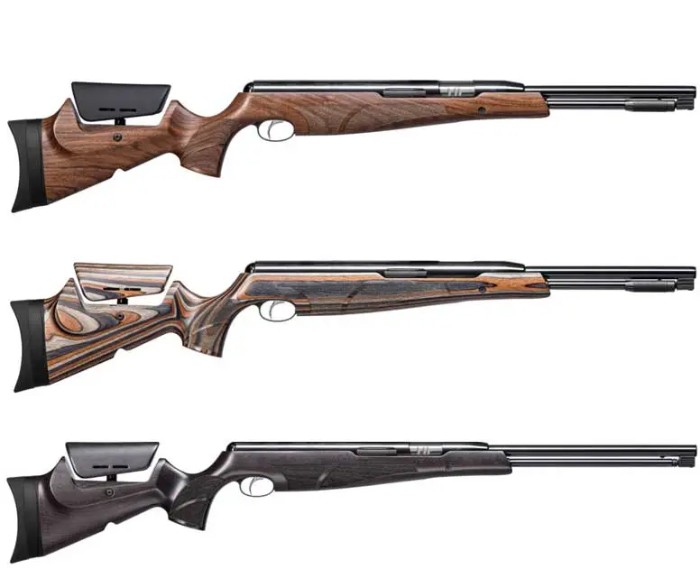 Air Arms TX200US:
| | |
| --- | --- |
| Caliber & Velocity: | (.177) 930 fps | (.22) 755 fps |
| Action | Underlever |
| Barrel Style | Lothar Walther |
| Fire Mode | Safety | Single-shot | Automatic |
| Weight (kg) | 4,40 |
| Overall Length (cm) | 105,49 |
| Barrel Length (cm) | 39,50 |
| Loudness | 3-Medium |
| Mechanism (Powerplant) | Spring-piston |
| Rail | 11mm dovetail |
| Trigger Adjustability | Two-stage adjustable |

the fully-adjustable stock
Air Arms use the fully-adjustable stock of their S510 Ultimate Sporter PCPs, an infinitely adjustable cheekpiece, that can move vertically and laterally, with full tilt and swivel variations, backed by high-precision 3-axis butt pad, to guarantee perfect shoulder contact and ideal eye-scope alignment, as well as that essential gun fit.
The cheekpiece adjustment system is built around a precision ball joint to create unlimited positional options. The cheekpiece can be adjusted vertically and laterally, in addition to its ability to swivel and pivot to perfectly accommodate the user's needs. The stock's 3-axis adjustable butt pad delivers optimal shoulder contact, perfect eye-scope alignment, and overall gun fit. The extensive laser-cut stippling ensures secure hand contact, with maximum control with minimal effort.
This combination of infinitely variable gun fit and total control that allows the shooter to get the most from their rifle, their scope, themselves and their sport.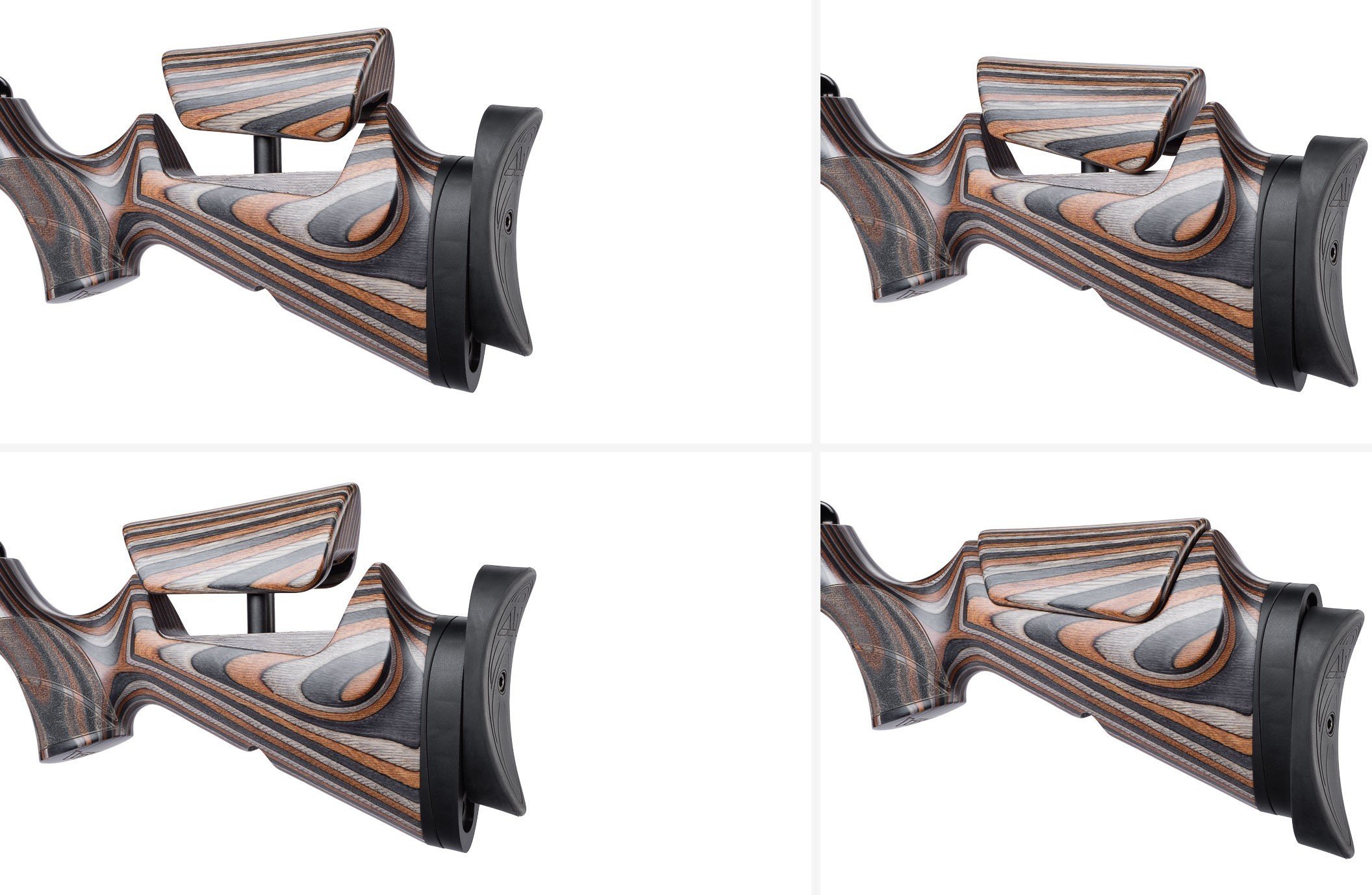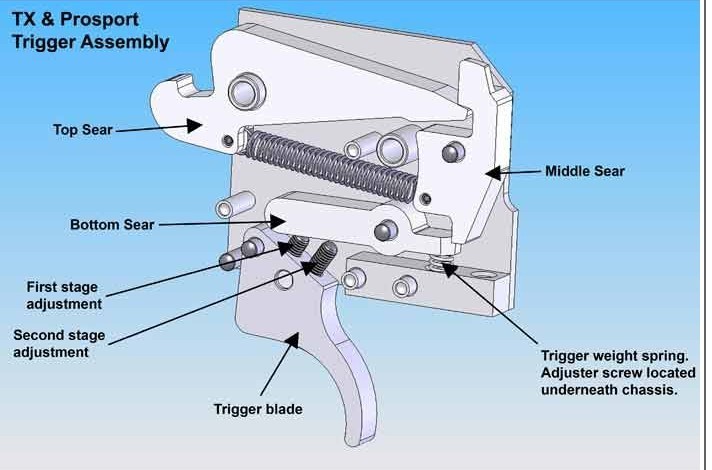 The TX trigger closely resembles the Rekord, but it's simpler and more adjustable.
This new design that offers greater flexibility when adjusting, so you can get the pull weight and release down to a finer, lighter value than with a standard Rekord. The larger parts are machined.
Well, you may think of a TX200 as an air rifle that's been blueprinted. The piston isn't wide and the stroke isn't long, yet the rifle develops remarkable velocity. The trigger appears dirt-simple, yet it can out-perform so-called "target" triggers in much more expensive guns. The mainspring isn't under much pre-tension, yet the rifle doesn't buzz when it shoots. Everything is just right.
Rolls Royce is the standard by which all cars are compared, and the TX200 is the standard for spring-piston air rifles.
AIR ARMS - The choice of Field Target Champions
"Product superiority comes from commitment to excellence. At Air Arms, that commitment begins with our production technology and is applied to everything we do by the skill of our staff. Through research, design, development and production, the Air Arms philosophy of 'only the finest' is maintained and constantly challenged by our quality control.
We're the best because that position was the only one acceptable, and we know our customers share that stance. We will continue to be the best, because our products constantly evolve to meet the demands of our customers, and as we already know, only the best will do for them."
Air Arms — We put you first