When Air Arms customers asked for a shorter, carbine version of the TX200, we gave them what they wanted. The result was the TX200 Hunter Carbine, which rapidly became a best-seller.
Some highlights of this shorter-model TX200 include a Lothar Walther barrel, built-in moderator, adjustable two-stage trigger, handsome Minelli stock available in right- and left-hand variations, a Monte Carlo cheek piece and a ventilated, rubber butt pad.
Although it's shorter in length than the TX200, the HC is anything but short on performance. "Everything that makes the TX200 the best in its class is contained in the HC, including those 'factory tuned' internal components, the elegant stock design and, of course, that impeccable metalwork," Air Arms writes. "It's all there, ready to produce the performance that took the TX200 to World Championship level."
If you're the kind of serious airgunner who demands the highest performance, unwavering consistency, reliability and pinpoint accuracy for which Air Arms is internationally known, the TX200 HC - Hunter Carbine might be the ideal springer air rifle for you.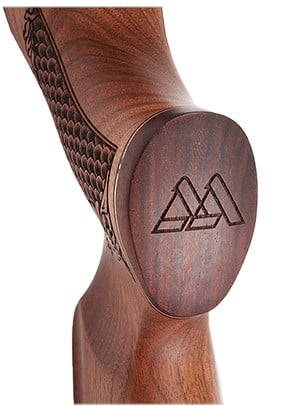 Air Arms TX200:
| | |
| --- | --- |
| Caliber & Velocity: | (.177) 930 fps | (.22) 739 fps |
| Action | Underlever |
| Barrel Style | Rifled |
| Fire Mode | Safety | Single-shot | Automatic |
| Weight (kg) | 3,85 |
| Overall Length (cm) | 99,70 |
| Barrel Length (cm) | 32,02 |
| Loudness | 3-Medium |
| Mechanism (Powerplant) | Spring-piston |
| Rail | 11mm dovetail |
| Trigger Adjustability | Two-stage adjustable |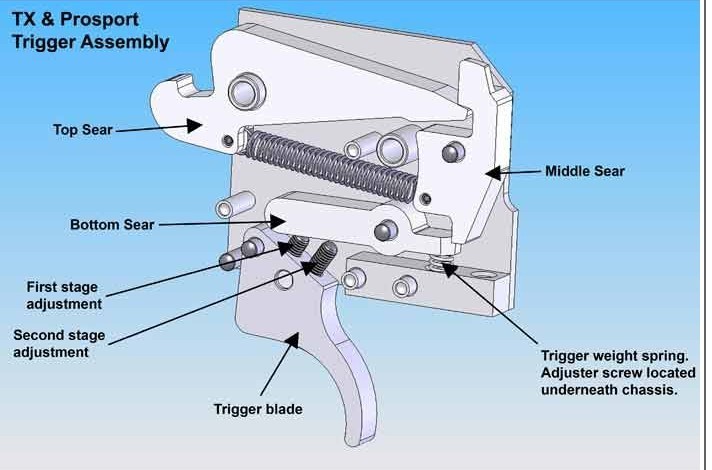 The TX trigger closely resembles the Rekord, but it's simpler and more adjustable.
This new design that offers greater flexibility when adjusting, so you can get the pull weight and release down to a finer, lighter value than with a standard Rekord. The larger parts are machined.
Well, you may think of a TX200 as an air rifle that's been blueprinted. The piston isn't wide and the stroke isn't long, yet the rifle develops remarkable velocity. The trigger appears dirt-simple, yet it can out-perform so-called "target" triggers in much more expensive guns. The mainspring isn't under much pre-tension, yet the rifle doesn't buzz when it shoots. Everything is just right.
Rolls Royce is the standard by which all cars are compared, and the TX200 is the standard for spring-piston air rifles.
AIR ARMS - The choice of Field Target Champions
"Product superiority comes from commitment to excellence. At Air Arms, that commitment begins with our production technology and is applied to everything we do by the skill of our staff. Through research, design, development and production, the Air Arms philosophy of 'only the finest' is maintained and constantly challenged by our quality control.
We're the best because that position was the only one acceptable, and we know our customers share that stance. We will continue to be the best, because our products constantly evolve to meet the demands of our customers, and as we already know, only the best will do for them."
Air Arms — We put you first