Ideal for long range shooting with high powered air rifles / rifles.
Designed for 1 inch scopes and 9.5-11mm dovetails, this ingenious design allows for full adjustment of the scope to zero (whilst the scope is attached to the rifle), purely by adjusting the MOUNTS – with just the final tweaks on the scopes turrets.
With this mount, the scope can be virtually zeroed by adjusting the mounts alone, and only using the scope's own turrets to fine tweak at the end of the process.
This means that the optics can be 'centred' , which sees the turrets set to their mid point of adjustment, prior to the mounts being used to zero the impact point.
By centring the optics, the scopes internal mechanism is under minimal stress, rather than being wound too far in one direction.
Each mount has a movable top half which can be adjusted within its base. The mounts are locked onto the guns rails, and the locking screws must then be slackened on BOTH mounts, to allow for slight movement of both when one is adjusted. The scope can then be gently set into position.
Windage is adjusted via the same slackening process, followed by the side screws. Once the zero is close (say within an inch, fine adjustment can obviously be set with the scope turrets if you prefer.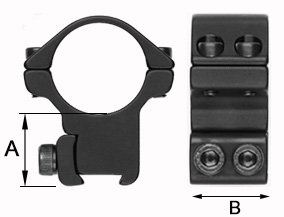 Dimension A: 26.5-29mm saddle (Height from where the ring base touches rail to bottom of scope ring)