This riflescope has been designed with sport shooters in mind, who are passionate about long-range shooting in the F-Class/Benchrest formula. It works perfectly where extreme precision is required and single points decide about victory.
There are three reticles to choose from for this riflescope. All are placed in the second focal plane, so that the size of the reticle does not change as the magnification increases. Basic zoom for measuring the size of the target or for estimating distance is 40x.
Proud users of the Stryker HD 5-50x56 are, among others, Christer Jacobsen, who is a Swedish F-Class 2017 winner and Adam MacDonald, who has won the following 2018 championships: The DCRA F-Class National Championships in Ottawa, Eastern Canada F-Class (FTR) Championship and Atlantic Championship in New Brunswick.
The click value of Stryker 5-50x56 HD is 0.05 MIL which is paired with the Miliradian (MIL) based reticles: the DLS-1 & DLS-2. In metric system 1 MIL equals to 100 mm @ 100m. The reticles have been designed to correspond with the click of the scope - 1 click = 0.05 MIL (5mm).
Stryker 5-50x56 HD is also available in 1/8 MOA clicks when paired with DLS-3 reticle which is simply yet effective MOA spaced reticle.
High quality ED glass guarantees bright and sharp image, significantly reduces chromatic aberrations and greatly improves colour reproduction.
Impressive light transmission paired with central illuminated point for quick target acquisition ensures excellent optical performance even in low light conditions.
Sleek and robust 34mm diameter tube provides vertical adjustment up to 300cm. Other noteworthy features include precise and durable mechanics and parallax correction from 10m to infinity.
The lockable turrets of Styker 5-50x56 HD have been designed for deliberate hands-on or gloved usage and are equipped with a ZeroLock mechanism which allows the shooter to set a limit for elevation. The shooter will zero the riflescope at their desired shooting distance, then the ZeroLock is used to make corrections only in elevation and prevents the user from lowering the point of impact below the user defined limit.
DLS-1 RETICLE
Precise target point covers only 0.03 Mil (3 mm) at a distance of 100 m! 0.005 Mil (0.5mm) crosshairs in the horizontal and vertical have markings spread in increments of 0.2 and 1 Mil (20 and 100 mm/100m respectively) for quick and easy adjustements to the projectile drop and windage correction. This second focal plane reticle will do exceptionally well at lower magnifications (7 - 10x), when the target point is 0.17 - 0.12 Mil (17-12 mm respectively), also due to the convenient day-night illumination.
DLS-2 RETICLE
Precision in pure form. Two thin 0.005 Mil (0.5 mm 100 m) crosshairs intersect in the center at an angle of 90 degrees. Nothing can distract the eye of a shooter providing an optimal overview of the field. In the intersection there is a central illuminated target point.
DLS-3 RETICLE
Equivalent to DLS-1 reticle, but scaled in MOA. The aiming point covers 0.1 MOA (2.91 mm) at a distance of 100 m. All the reticles in the Stryker 5-50x56 HD series have been designed meticulously so that nothing can distract your attention whilst giving your best shots.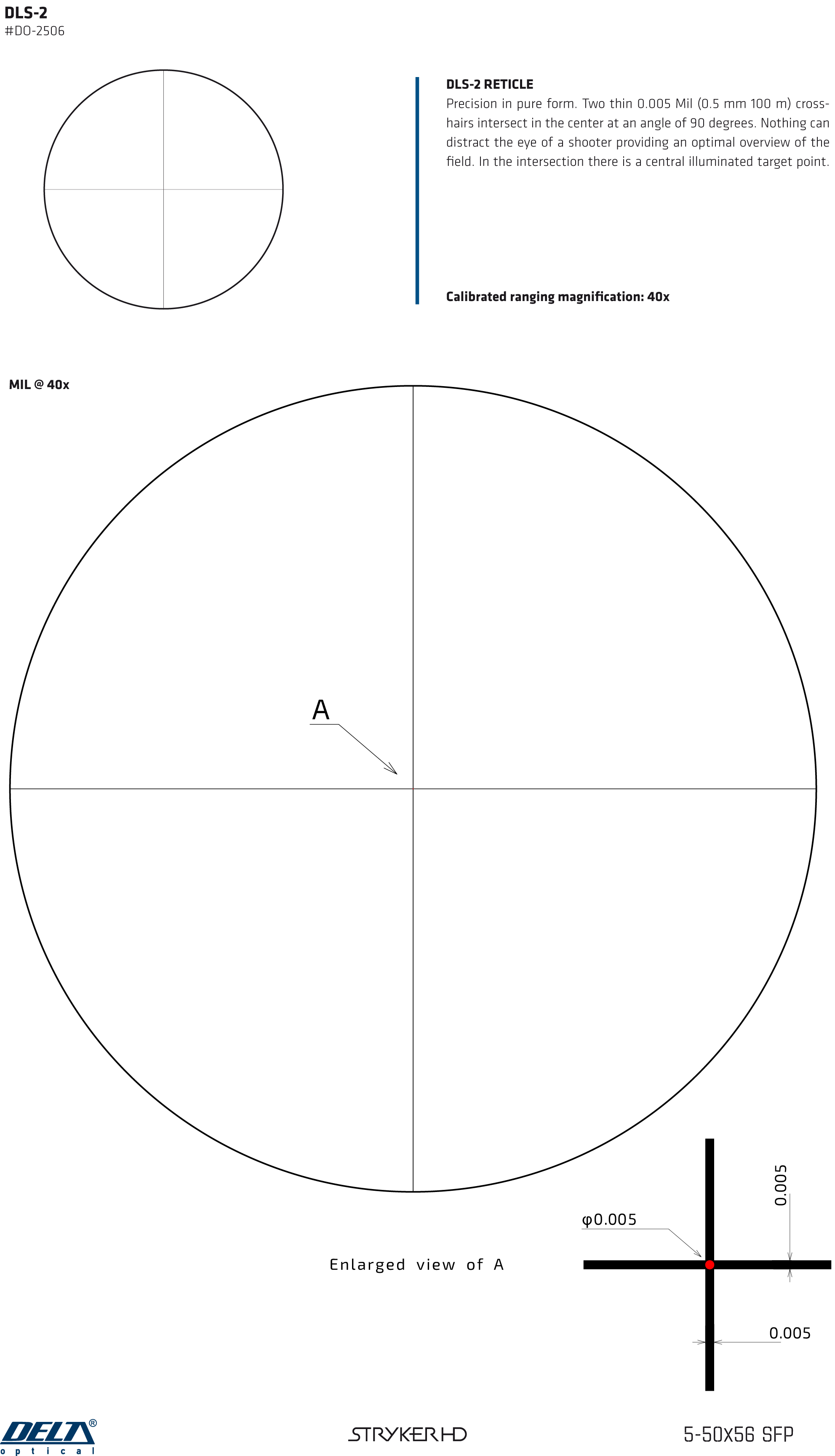 ​
Specifications of the Delta Optical Stryker HD 5-50x56 SFP rifle scopes
Increases: 5-50x
Diameter of the lens: 56mm
Distance to the eye: 89-100mm
Tube: 34mm
Length: 363mm
Weight: 1100g
Nitrogen filling: Yes
Operating temperature: -20 / 71ºC
Cross adjustment of a single click: 0.1 MIL
Reticle type: DLS-2
Grid position: Second focal plane (SFP)
Illuminated grid: Yes
Cross adjustment range: 100/50 MOA
Exit pupil: 11.2 - 1.12mm
Parallax adjustment: lateral focus (10 m - ∞)
Angular field of view: 4.04 - 0.41º
Twilight efficiency: 16.73 - 52.92
Water resistance: 0.3 kg / cm2
Resistance to shock: 6500 J
Zerolock