This is the new version of the Delta Stryker Target Ultra ED 4.5-30×56 HD FFP Illuminated Locking Turret Rifle Scope, featuring a new & improved locking turret design (as seen in the pictures).
The Delta STRYKER ED 4.5-30×56 HD LT is undoubtedly a rifle scope that is long overdue in the market and has now been upgraded to have locking turrets. The Delta STRYKER ED features a reticle in the FFP will mil graduations and 0.1 Mil Clicks. The top quality ED glass of the Delta STRYKER ED 4.5-30×56 HD LT will give an bright and rich in contrast image. The HD / ED glass system is the same as you will find in the highly regarding and thought after Delta Titanium 2.5-15×56 HD. This HD glass system significantly reduces chromatic aberrations and improves overall sharpness & colour reproduction significantly.
The 56mm objective combined with the FMC lenses gives great light transmission & brillaint optical performance even in low light conditions. The well designed LRD reticles of the Delta STRYKER ED 4.5-30×56 HD have been tried, tested & thought out by Long Range Design of Sweden who are experts in extreme long range shooting. The DLR reticle of the Delta Stryker ED was designed by Astro Swedens Jannes Nissinen who had taken the guidelines,thoughts, work & feedback from top Scandinavian shooters and designed the DLR reticle which has an MSR style about it but with a very finely marked mil hash center for quick measurement and windage holdovers.
All the reticles in the Delta STRYKER ED are a FFP Milradian based (1 MIL = 10cm at 100m) and are truly unique and have been designed to accommodate every shooters needs. Each of the reticles of the Delta Stryker 4.5-30×56 FFP correspond with the click of the scope which is 1 click equals 0.1 MIL (10mm). The FFP Reticles are designed so the shooter on any magnification can make elevation and windage adjustments using the reticle on any magnification.
The Delta Titanium 4.5-30×56 HD has been built on a sleek and robust 34mm tube which allows the STYKER ED to gain a large range of reticle adjustment which reaches 300cm. This large amount of elevation adjustment will ensure you can get out to 1000 yards +.
The Milradian based turrets of the Delta Styker ED 4.5-30×56 are an open BDC design and are equipped with a Zero Lock mechanism which allows the shooter to set a limit for elevation. The shooter will zero the riflescope at their desired shooting distance, then the zero lock is used to make corrections only in elevation and prevents the user from lowering the point of impact below the user defined limit.
The Delta Stryker 4.5-30×56 HD weighs only 1042 grams and is a compact size of only 365mm ensuring the scope can fit into any weight constrictions competitions throw at it.
As standard the Delta STRYKER ED 4.5-30×56 has a 10 year warranty.
Delta Stryker ED 4.5-30×56 HD FFP MIL / MIL illuminated Features:
HD glass which significantly reduces chromatic aberrations and improves sharpness and color reproduction.
Fully Multy Coated (FMC) lenses give a great light transmission and a brilliant optical experience.
Iluminated reticle – Center only illuminates
Zero Stop means that you can always return to zero if you accidentally click off it.
Cats Tale lever makes adjusting the magnification an easy job. Switch View Throw lever included.
Side parallax adjusting from 25m to infinity.
Clear and distinct click. 11 stage day / night lighting.
FFP causes great spirit reticle. MIL / MIL-adjusting both the knobs and the reticle is cm-based.
Wide Angle Absence of tubseende and tunnel vision at all magnifications.
Waterproof, moisture-proof, nitrogen filled.
​When the magnification is increased, the reticle increases in size along with the image you are looking at.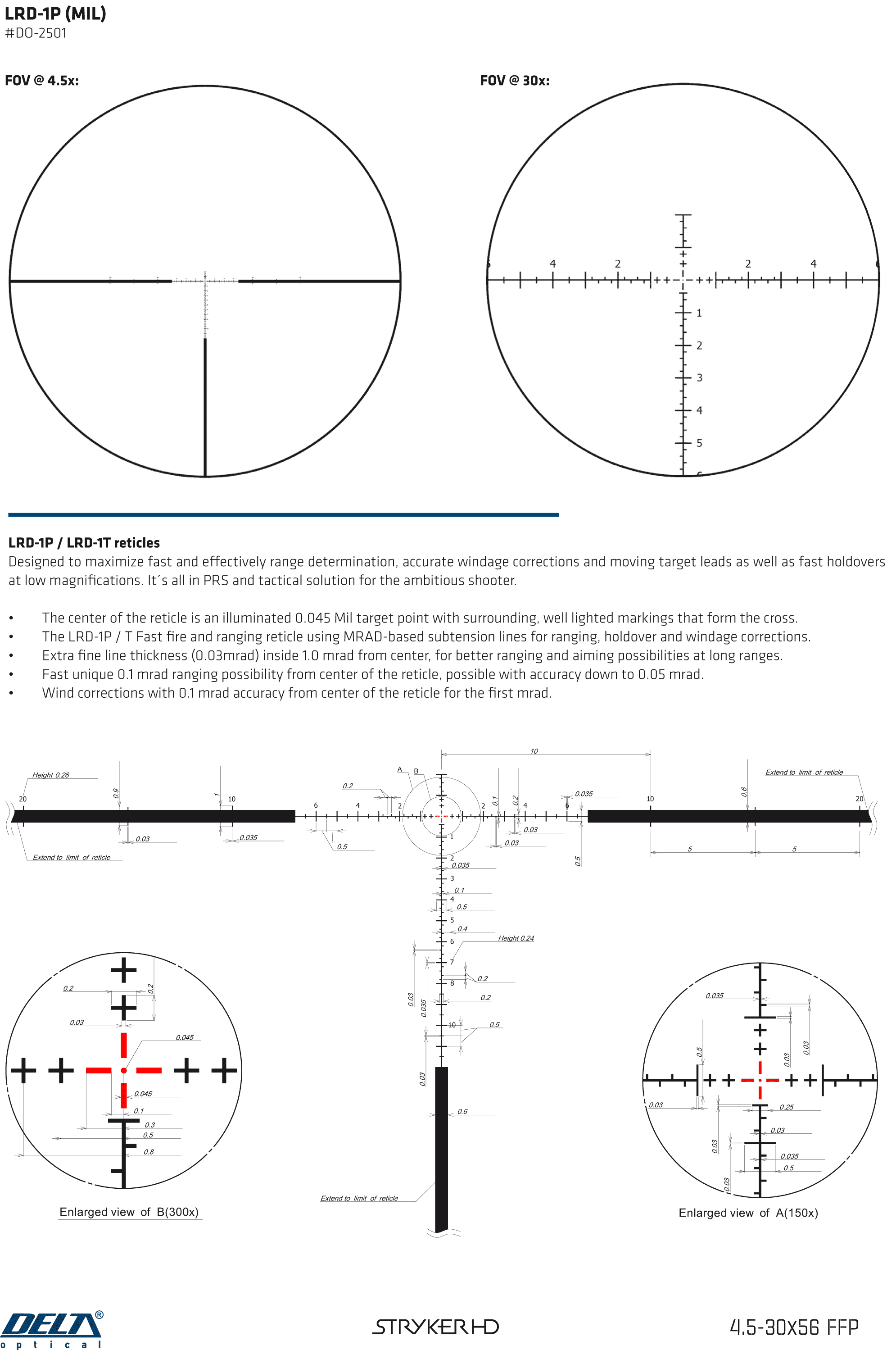 ​
Serie:Stryker HD
Magnification [x]:4.5-30
Minimum magnification[x]:4.5
Maximum magnification[x]:30
Objective lens diameter [mm]:56
Reticle:DLR-1, LRD-1P, LRD-1T
Illuminated reticle:Yes
Angular field of view [° degrees]:4.72-0.71
Linear field of view at 1000 m [m]:8.3-1.2
Exit pupil [mm]:8.8-1.9
Eye relief [mm]:81-97
Water resistance:0.3kg/cm2
Weight [g]:1 014
Length [mm]:365
One click:0.1 MIL (1 cm @ 100m)
Max. elevation / windage adjustment range :30/15 MIL
Tube:34 mm
Parallax adjustment:Side focus (23 m - ∞)
Diopter adjustment range:-2D / +3D
Reticle position:First focal plane(FFP)
Functional temperature range [°C]:-20 — +71
Nitrogen filling:Yes
Remarks:ZeroLock
Accessories:
- Throw levers,
- Sunshader